The ugly duckling (SMF Mazda 323)
Well, welcome to my love and passion. Let me introduce you to my car and a little bit of its back story. Its a 92 mazda 323 with a few tweaks and modifications. I bought the car from a local autocrosser (Tom Currie) who was building the car for SMF, but as he was getting close to finishing the build his life was taking a major turn away from racing. Tom and I had been great friends threw autocross and since I had been helping him with building this car, I got first dibs on buying it.
She came equipped with a 2.5L (KLDE) V6 installed plus a bunch of other goodies. Tom had used his old Mx3 as a donor for this build and was sparing no expense. Along with the V6 the car also came with mx3 front/rear brakes, front/rear sway bars, corksport front/rear upper strut bars. Tokico blue shocks, HKS springs, headers, 2.25" exhaust system, and a few other bits and pieces. All the parts Tom had installed were either brand new or had less then 10,000km's on them.
When I bought her, there were some issues to be worked out. The car had an odd missfire problem, the speedo didn't work, few other bugs needed to be worked out. I bought the car on a friday night.. Drove it from chillowack to aldergrove where I was working at the time.. Spent saterday fixing the speedo, cooling fan, odd missfire issue and installing a new steering wheel.. Sunday I took it out and broke the car in at her first autocross..
Guess I can show some pictures.. First time I brought her home..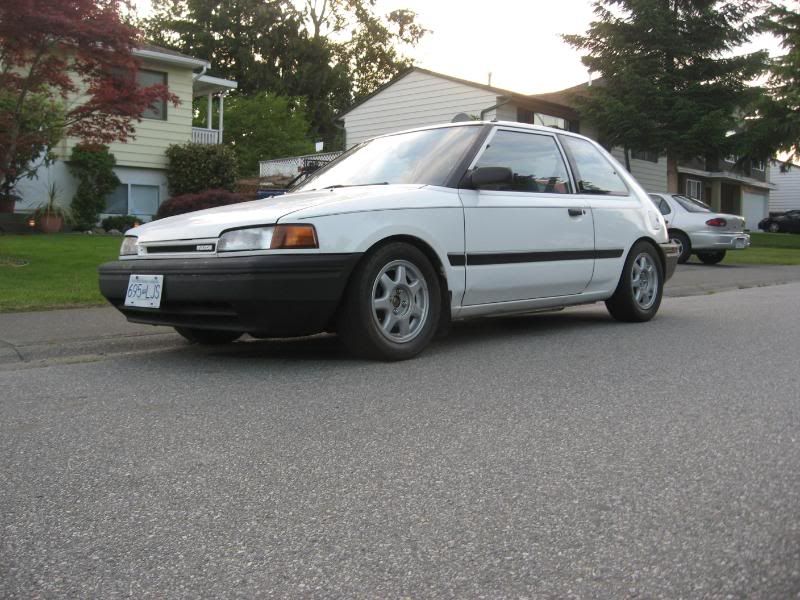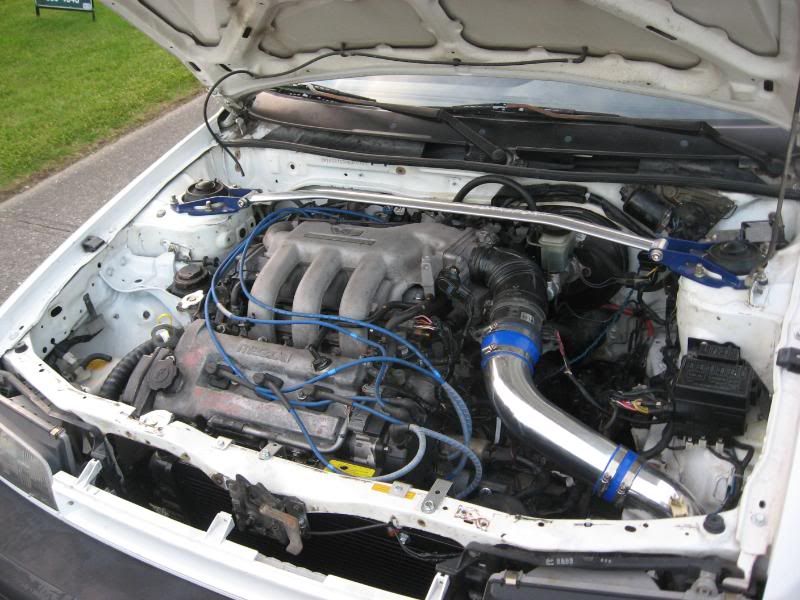 Dead battery at the event.. Couple more bugs to work out..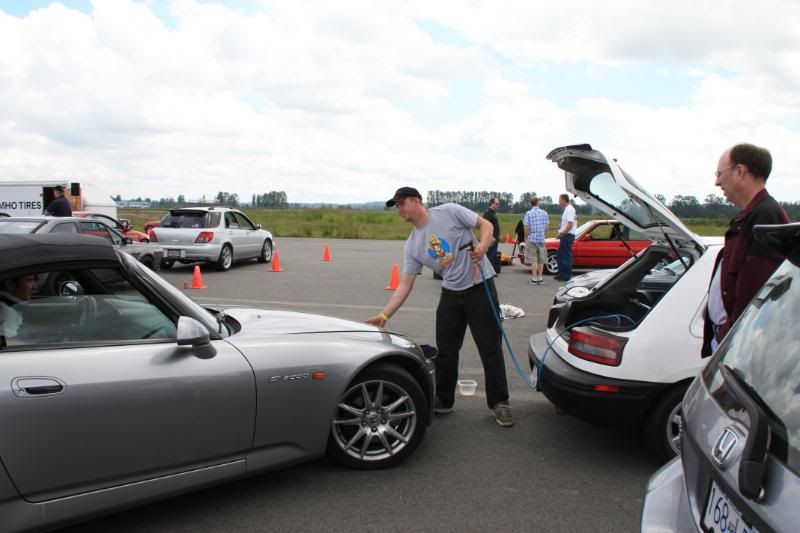 My mom wanted to see what all the fuss was about so I took her along for a ride. Yeah I hit that cone.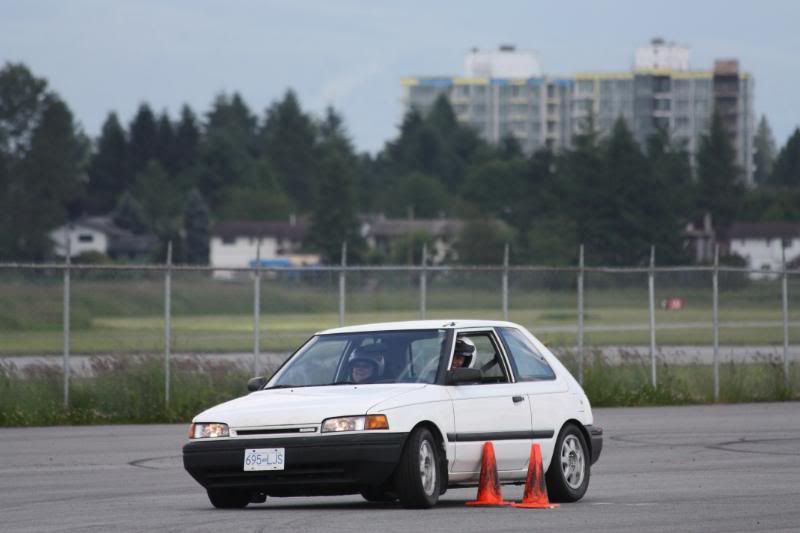 Toyo RA1's don't make really good tires for daily driving.. My old 5 zegan 17" rims fit nicely. At this time I also switched out the manual steering rack for an mx3 power steering rack.. This rack had a quicker ratio, but since the car didn't have power steering on it the steering effort was extremely high and made for an interesting autocross event..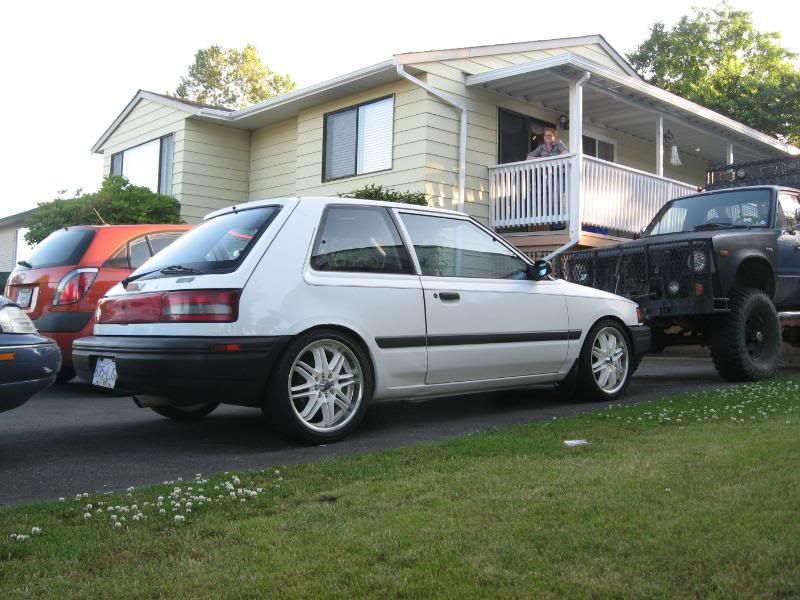 The car has to pull double duty as a daily driver/baby hauler so a complete back seat was needed.. Something the car was missing when I first bought it. Mx3 rear seats, mx3 front seats much more comfortable then the stock 323 stuff..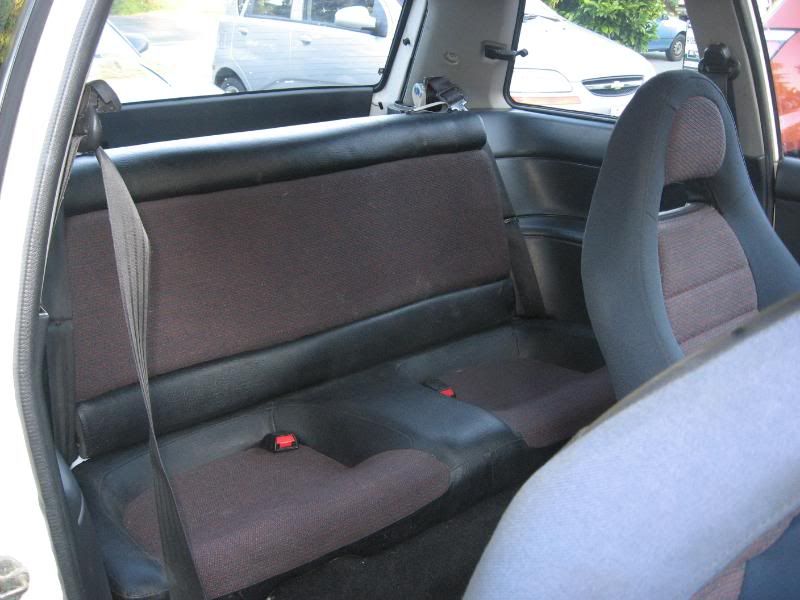 I had a blast racing the car all threw the 2010 summer autocross season. Being a daily driver/dual purpose car when winter came around the car was fitted with stock suspension. I had previously navigated for our very own Norm Hayton during the 2010 Thunderbird TSD rally. I was bit by the bug so come november 2010 my girl friend and I entered the car in the Totem TSD rally.
We had a blast in the TSD rally but ended our race early after having a bad off during the first night stage.. Biggest lesson learned, Studded snow tires are a MUST! for a TSD rally. The car took some damage, bent gas tank, bent frame under the driver seat, some dents and dings but over all not to bad.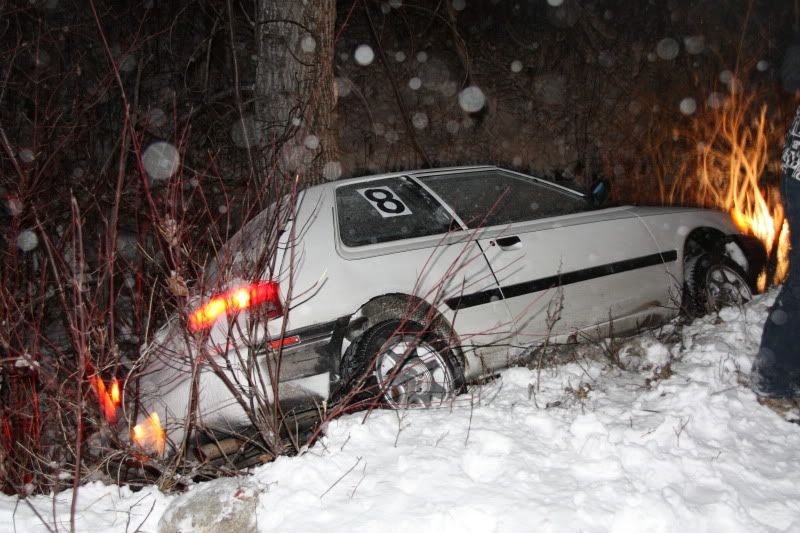 At this point 2010 was over and I had lots of ideas for 2011.. More stuff to come..