Thenorm's FSP Focus widebody
If anyone doesn't know me I'm Norman, been in the club for 10 years now. I've been autoxing my current car for about 8 years from H stock up to FSP.
You may not have seem me around lately as I am working 6 month in Australia, and even when I was around I might have been driving other cars (last slush series I was in Genevieve's STI)
I've got a build thread from another forum that I'd share with you guys. here's the orignal link if interested
http://www.focusfanatics.com/forum/show ... p?t=317578
I've had my Focus nearly 10 years now, and it's been through a lot in that time, auto-x champ, rally-x, track days, all while being a daily driver. I thought I would put together a build thread documenting what I've done.
Here's how she looks now. My mods to this car are just about done. I think I'll enjoy it as is for a few more years, then take it off the road.
2004 Ford Focus ZX3
Exterior
• window tint
• tinted taillight and turnsignals
• vinyl window banner
• SVT front lip
• European OEM grill
• Fog light turn signals
• F2 fender flares
• 17x9 Cobra R replica wheels with 255/40R17 tires.
Interior
• %100 OEM
Performance
• SVT intake
• 65mm TB
• Ported Early 2000 intake manifold
• UDP
• Tune
• SVT header/ ORP/ flex
• Custom stainless 2.5" catback
Suspension & Drivetrain
• H&R Race Springs
• Koni Yellow shocks
• LCR camber plates
• FocusSport lower front strut bar
• Custom Rear strut bar
• Torsen ATB Differential
• SVT brake swap
• Stainless brake lines
• Full poly bushings
• Eibach 25mm rear sway bar
Now the roughly step by step photos.
One of the first major mods I did was to buy some 17" FRD wheels. I didn't like the caps so I got custom vinyl. Also put a banner on the windshield.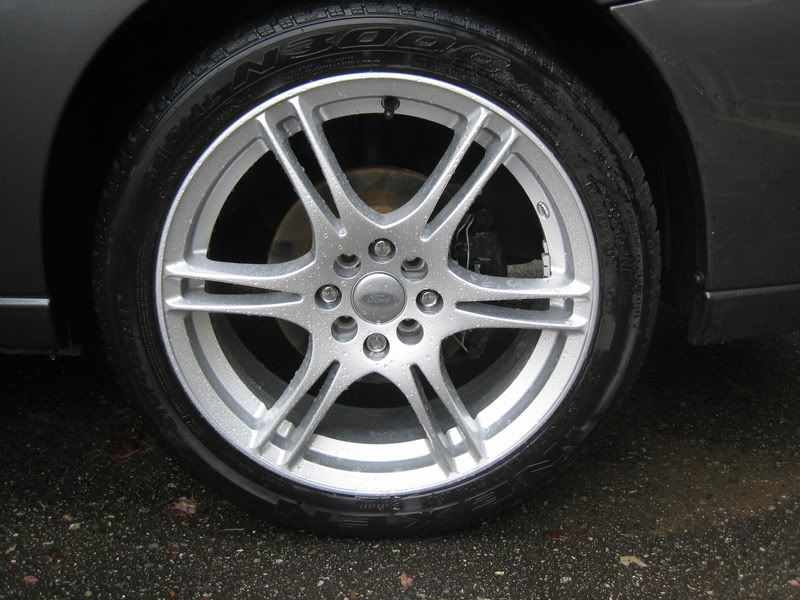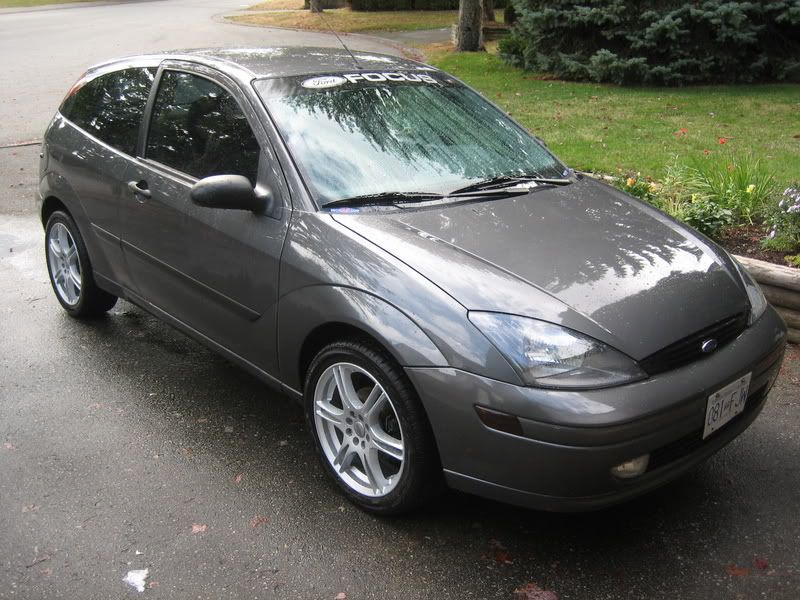 Next was some coilovers. I ended up having custom spring perches machined because they were just too low.
Ford Racing Coilovers (aka KW V1)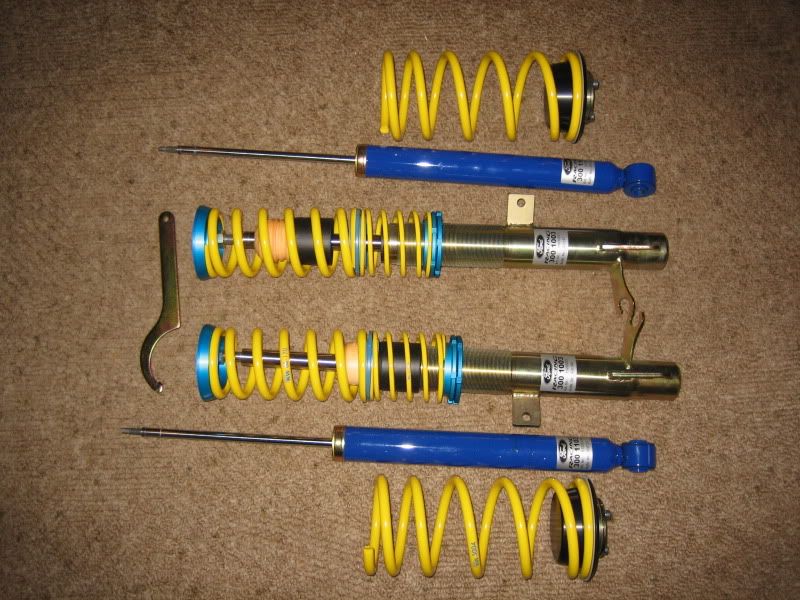 Custom rear spring perchs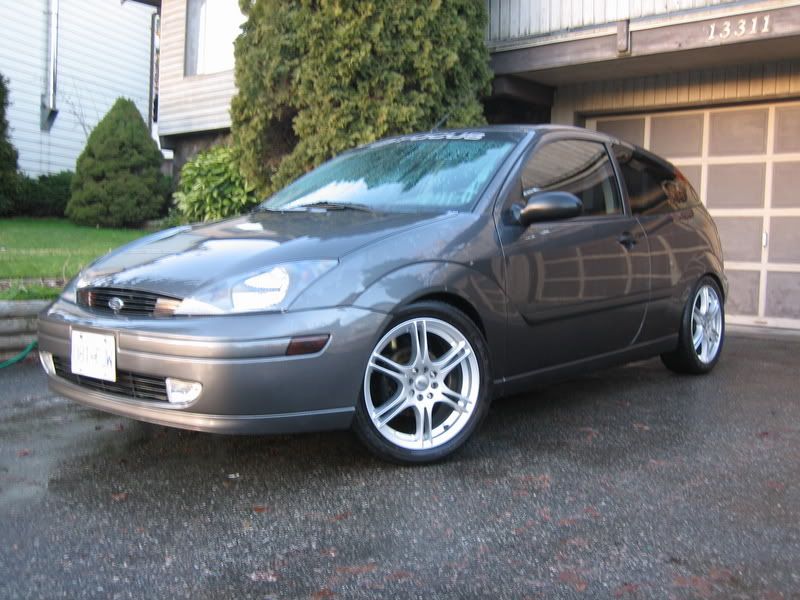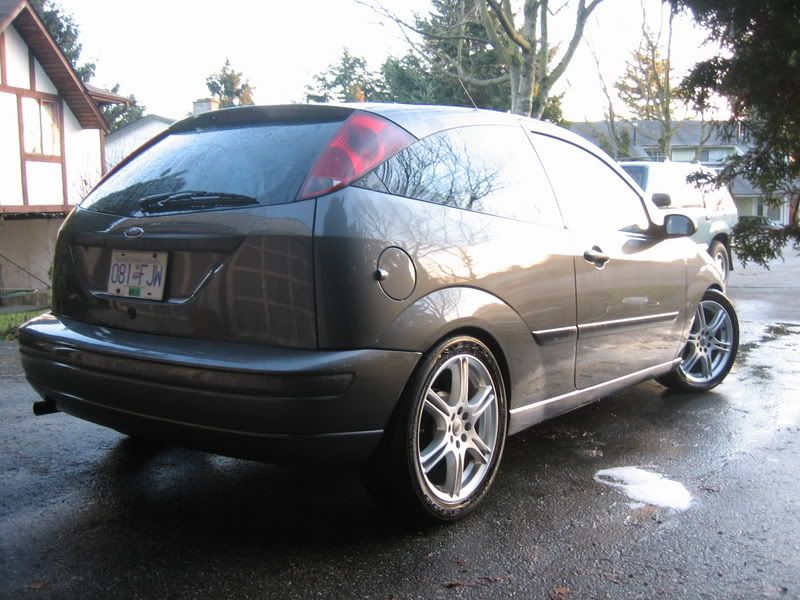 I had a chance to buy some Team Dynamics Pro Race 1 17x7, 45 mm ET for a really good price and they came with tires. These are a nice, strong, light 17lb wheel with touring car race heritage.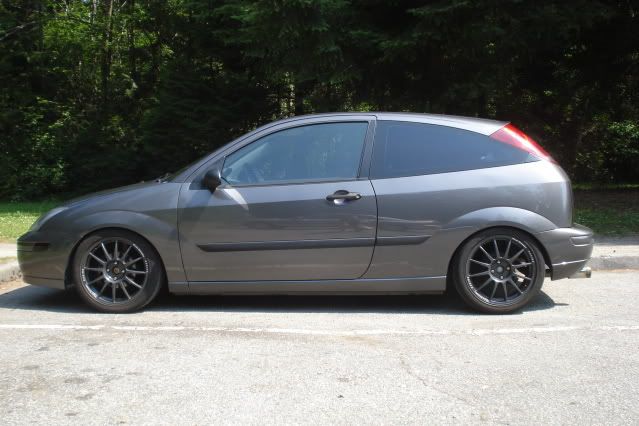 Cambers!!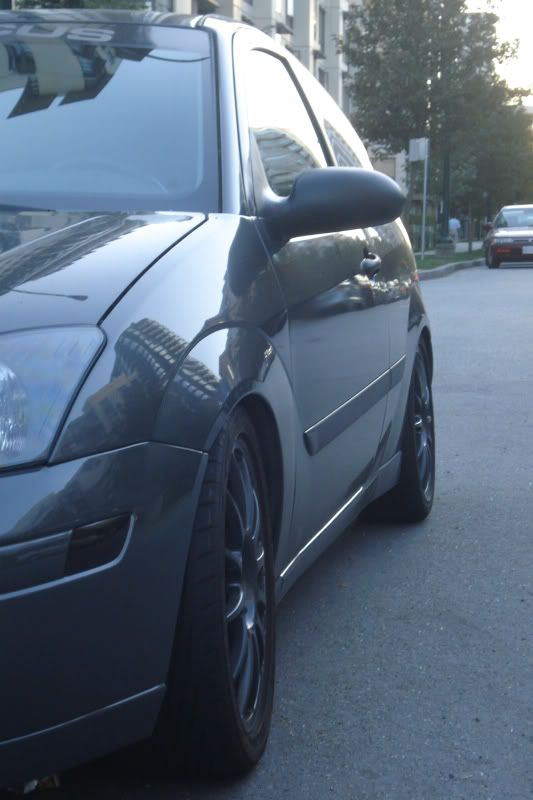 Installing the torsen
http://www.focusfanatics.com/forum/showthread.php?t=202796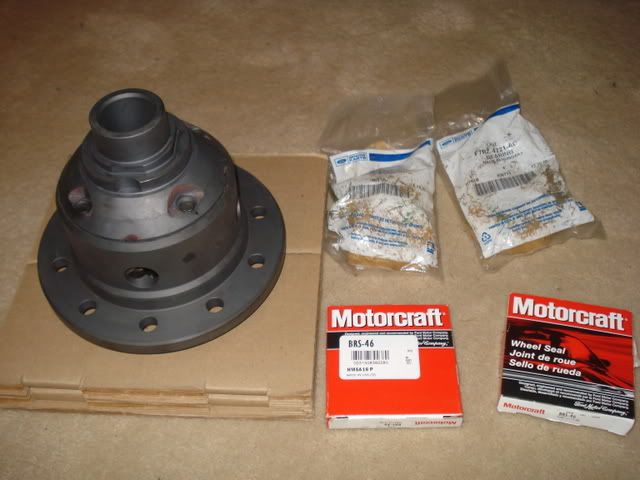 Installing poly bushings
http://www.focusfanatics.com/forum/showthread.php?t=231180
And one of my favourite DIY mod, the Fog light turn signals, which I created. I coupled it with a Euro slat grill straight from ebay.uk.
Using 4 relays, 2 diodes, and 2 load resistors, the foglights act as my turn signals but also function perfectly as fog lights (and as my DRL). It brings a really clean look to the front of the car. The details are in the link if anyone wants to convert.
http://www.focusfanatics.com/forum/showthread.php?t=311112
Since I had cut my fenders for auto-x to clear my race tires. I then worked on fitting aggressively sized street tires. This was purely for looks, so I didn't care much about the weight of wheel. I went with 17x9" Cobra R replicas. I fitted a 255/40R17 tire. No poke and stretch for me thank you! Function>Form.
It took a lot of work to get it to fit, the tire is very wide and tall.
• I've enlarged the wheel well by removing about 2" vertically of fender metal so that the tire would have clearance.
• I've modified and/or destroyed the wheel well liner.
• I've had to clearance where the fender and bumper meet.
• I had to remove the lip on the back of the F2 flares to make them fully functional. I bought the flares years ago off a member, so I don't have a current source for them.
• To match the bumper to the flares, I notched the back of the bumper, and bent/stretched the edges out, and added a spacer.
• I had also plastic welded tabs on the back of the bumper to properly attach the SVT lip.
• For the wheels, I had 4mm machined on the hub face (as much as was possible) to bring the wheels a bit closer.
• The tires are Sumitomo HTR Z II; they suck hard, but they were cheap, and this setup is for looking good, not the track (I have other wheels for that).
With this fitment, everything tucks, and it only rubs in the rear when I hit a big bump at speed. The pictures don't do it justice. It looks best when you are following it on the road, seeing it in motion. These wheels/tires look bonkers wide in real life. props to UBCSCC friend Bill Kwok of Artofstance.com for the photoshoot.
I've got lots more to show, a bunch of race pictures etc, so that will be in the next post.
Norman Hayton -
2014 Mustang GT in F Street
1999 BMW 323i for Rallycross
2011 FSP Canadian National Champion
2017 FS Canadian National Champion