Mike's s14 Kouki build
Hey Everyone,
My name is Mike and here is my introduction and build thread for my 98 240sx. I have been into cars as long as I can remember but didn't start racing autox until January 2012. I didn't know about the pad in pitt meadows until late 2011 when a friend of mine convinced me we should do it so with some peer pressure I signed up and became hooked after just one event. I tried balancing bike racing and autox when ever I could in between last year and loved every minute of it.
Here is a history of my car.....
I purchased the car in February 2009 as a pretty much stock automatic with 75,000km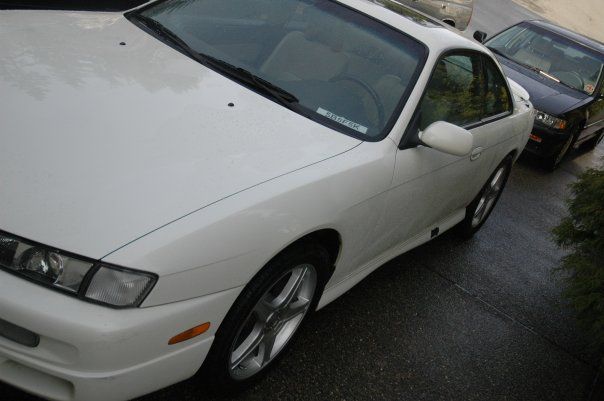 I had some parts left over from my previous s14 so I put those on these included 350z wheels, eibach pro kit springs, hks hi power exhaust, and took out the double din for a single din deck. Here was the end result I thought I was a pretty cool cat at this point haha
I was very slowly picking up 5 speed parts to do the swap but along the way I also picked up some other things. The stock brakes felt under powered to me so I stumbled across a pair of z32 26mm callipers so I picked up those, Powerslot slotted rotors and Hawk HP+ pads, and PDM stainless conversion lines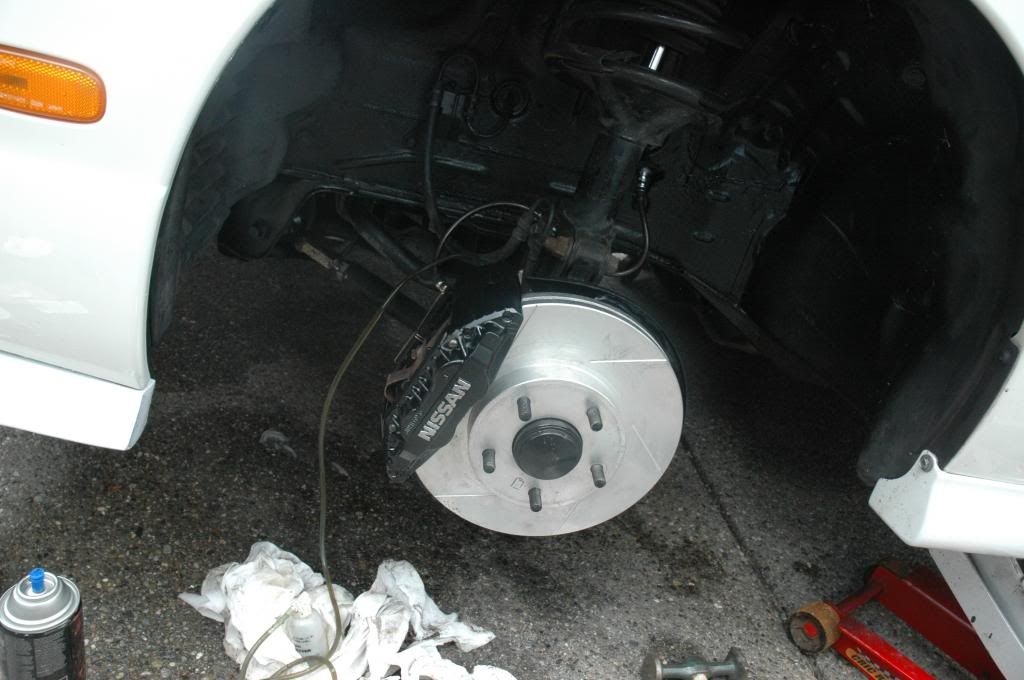 Next up I had to repaint one of my side skirts due to previous owner chipping paint off, and my dad figured we could do it. So I also picked up a JDM rear bumper and painted that at the same time. I ordered a set of JDM valances as well but they took a lot longer to become in stock and shipped out.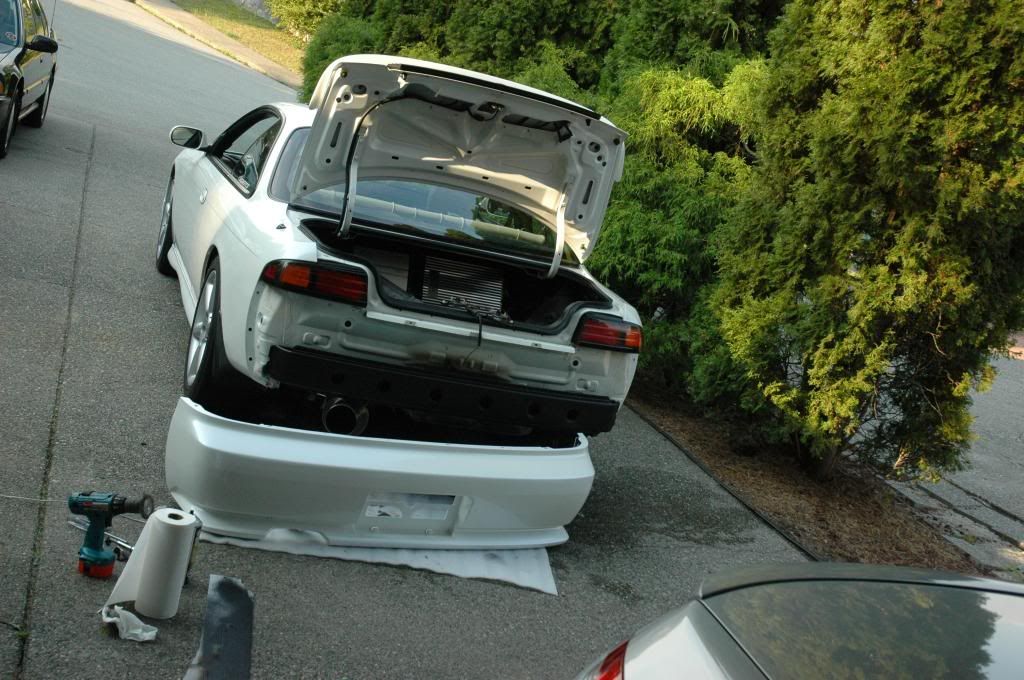 That was pretty much it for 2009, I went to a few meets and tried some pretty basic work on my car. In 2010 I decided springs wouldn't cut it I wanted to be able to adjust damping and my ride height so next up came a set of Stance GR+ coilovers.
My valances came in so I test fitted them
I also picked up a USDM front lip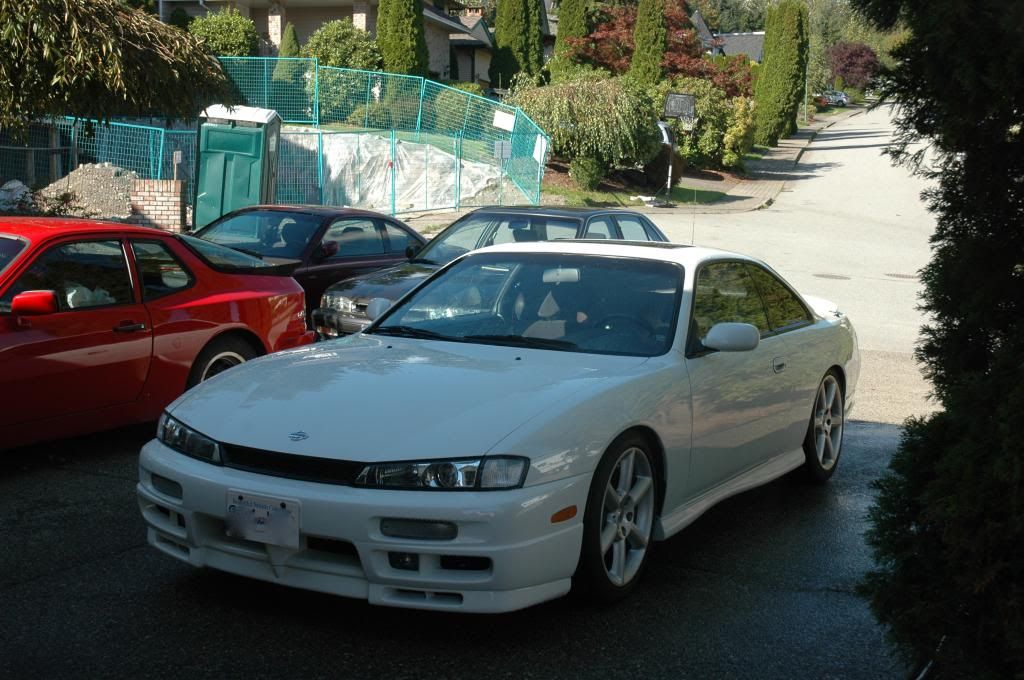 That was pretty much it for 2010 I spent most of the year traveling for bike races and working/school the rest of the time. In 2011 I was pretty bored of the auto/na and I had the chance to own my dream car, I bought a r32 gts-t. It wasn't a gtr but man it was fun loved that car. I sold it this year after 2 years of ownership. Owning 2 cars was just impractical for me. Near the end of 2011 I finished the 5 speed swap. I also picked up a set of circuit sport adjustable RUCA, and Toe arms and had an alignment done by Don at PDM.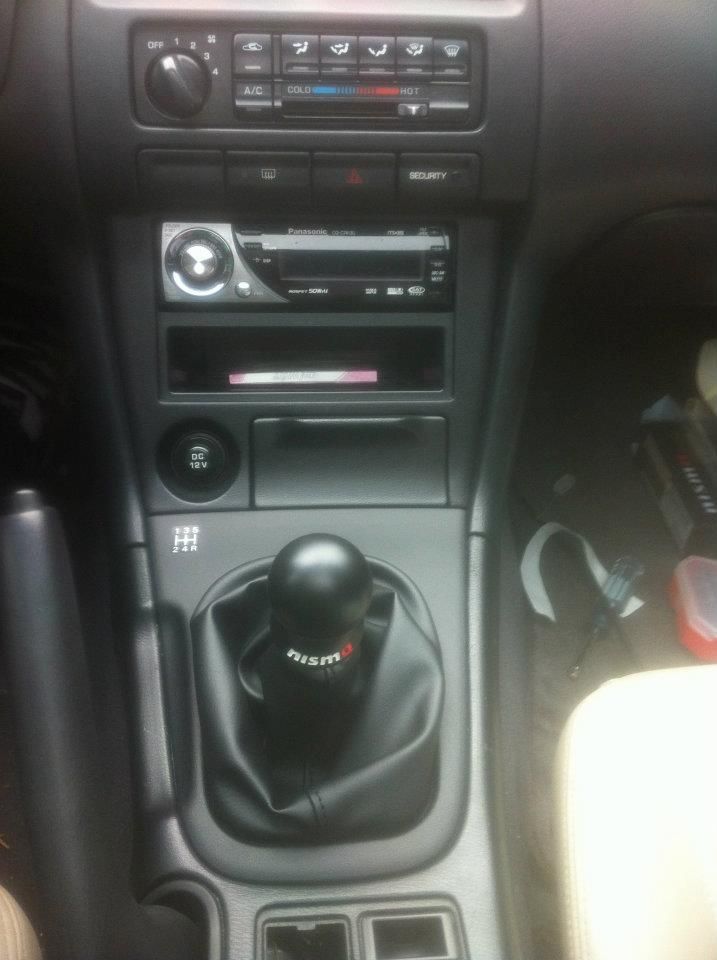 Here is where it gets more interesting. January 2012 my first autox I learn't a lot mostly that I drive very slow haha. It was awesome to get to drive my car on a track!
After doing a few events I started to learn how to drive better and some of the weak points on my car. Biggest one was my head being on the roof, I am over 6"2 so I had no room in my car. I picked up a set of Nams super low rails and a replica bride vios iii seat.
I also noticed I was rubbing up front under hard cornering unless I ran my coilovers on full stiff so I upgraded to a set of ST sway bars. BEST mod I have ever done to my car it made the car handle so much better and I can run my coilovers on full soft and still no issues with rubbing. Bang for buck I wish I had gone with sway bars much earlier.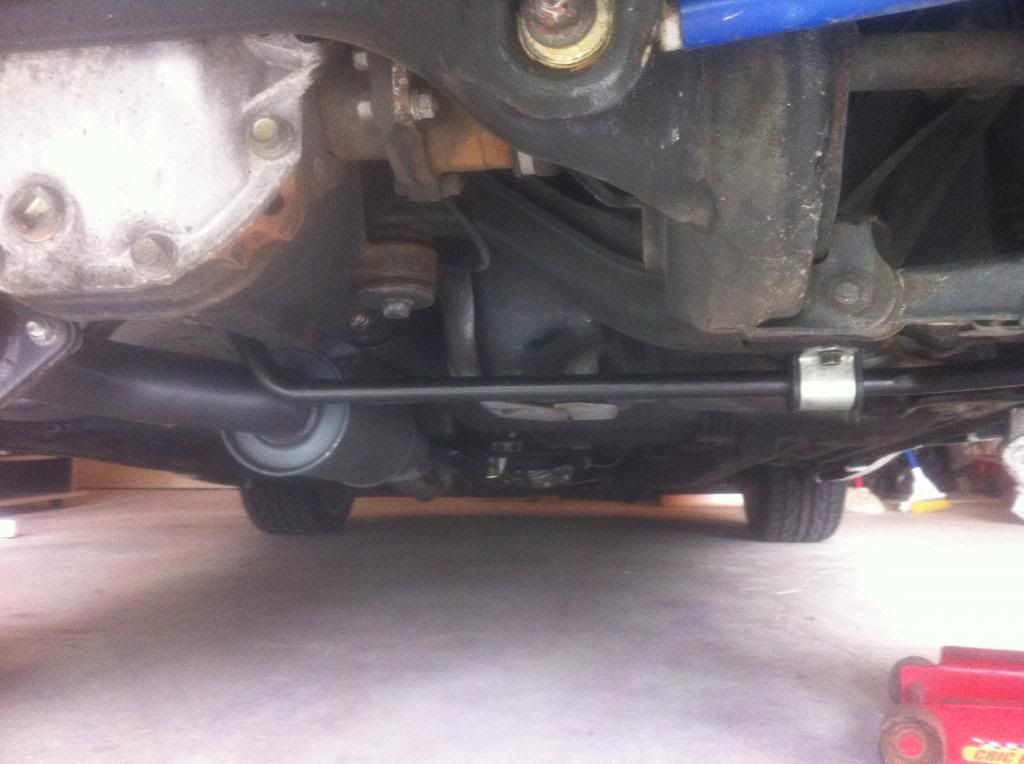 During the summer I was away racing most of the time so I really didn't do much driving. I raced in T-town for the fist time (incredible) before getting sick and missing BC super week. That was a major bummer but things worked out in August when I won BC champs match sprint tournament I am the one in the center.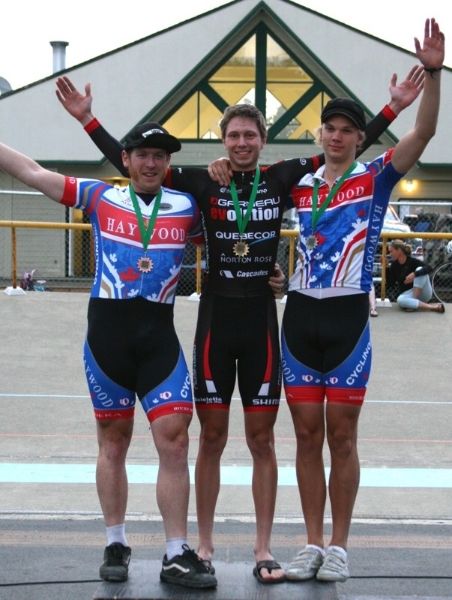 October I had a hectic weekend. Some of you may remember me from autox 101 and the race the next day. I crashed in training the day before and had to get some stitches. I cut across my eyebrow and gave myself a large black eye. After waiting 5 hours for a doctor to see me I was stitched up and on my way. I spent the rest of the night icing my eyebrow hoping my eye wouldn't swell shut and I would be able to put a helmet on. A friend of mine also delivered my new wheels to me after I got out of the hospital but more on that later. Autox 101 was awesome I learn't so much and had a blast doing it. I got some funny looks the next day racing and tried explaining to people I wasn't in a bar fight. This photo was the night of the accident the next day looked much worse.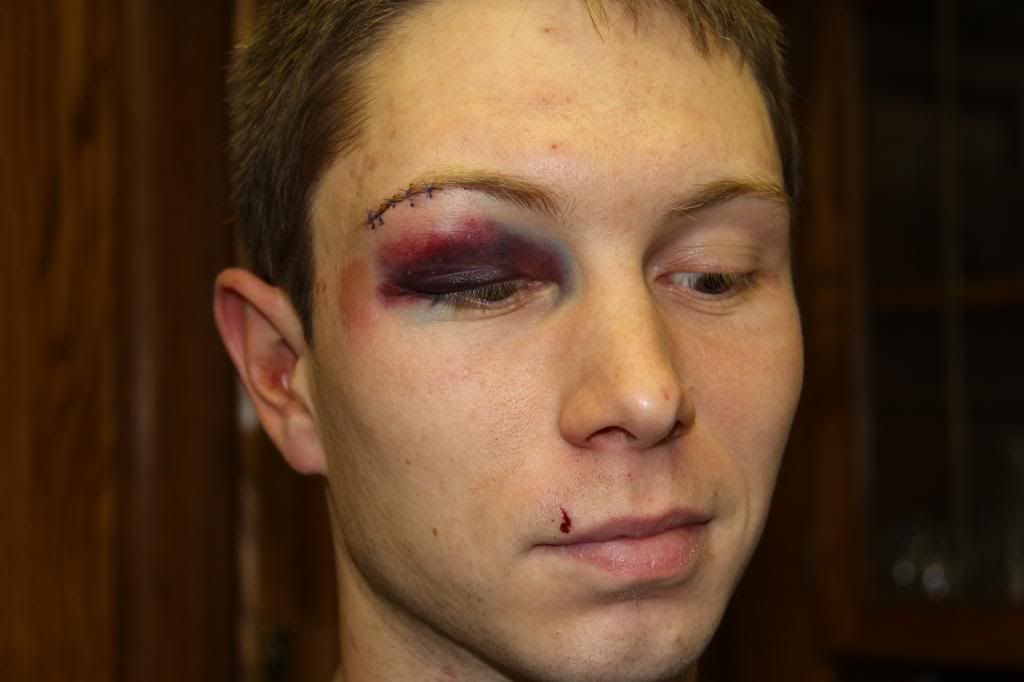 I didn't change anything on my car but regular maintenance stuff during the semester just did 1 or 2 events and kept training. In December I had another brutal crash which resulted in me going over the bars at 50+kph and taking out the race officials table. The next 2 months I couldn't do much just tried to get over my concussion. My brother and I came out and shot some photos at a slush event during my recovery time, and even raced one event once my symptoms had gone away.
Next up I picked up a set of circuit sport traction arms to complete my set of rear arms (I didn't get around to install these until end of may you will see why a little later)
My dad and I (mostly my dad) welded up the holes on a stock trunk and I pulled out a K's wing I had from my previous s14 (I still need to paint these)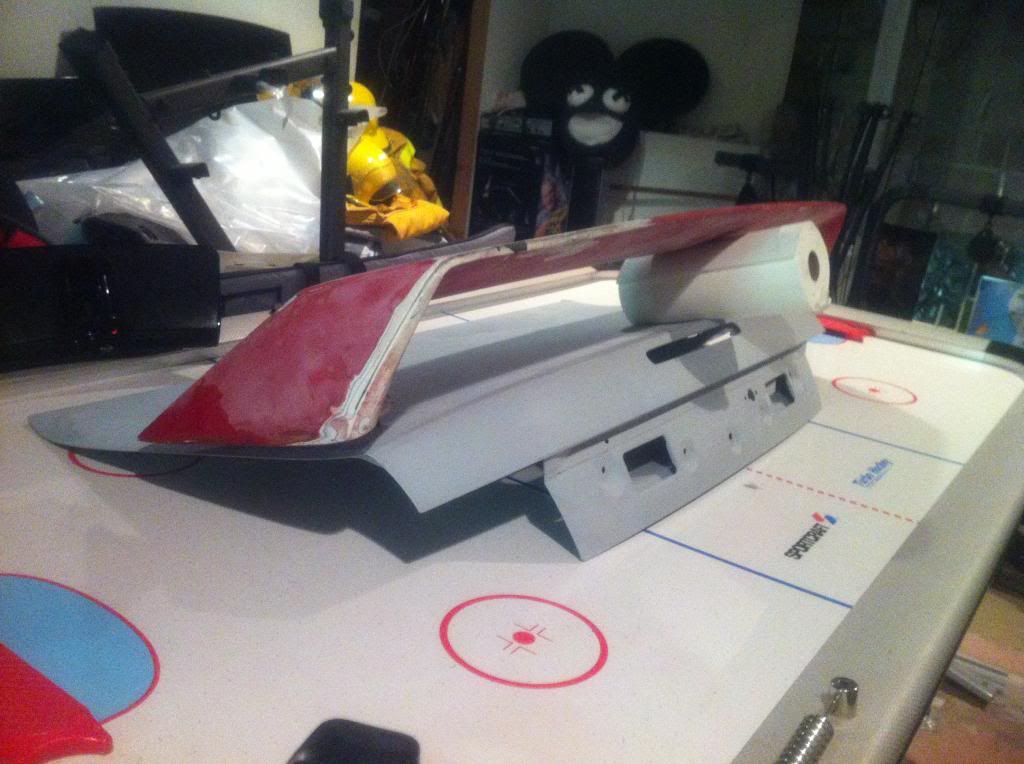 I was on the road again in February training down south in California for the upcoming season when I had another crash, this time it was very serious crash. I ended up going over a guard rail and fracturing my c7 vertebrae. I took this the night after I got out of the hospital.
So I have been out for a long time it took weeks for VGH to receive my information and a doctor to look at me. I spent 2 months in that thing! But I am very lucky and fortunate that I can still walk or do anything for that matter. As I completed my rehab I also got to work refreshing the 240 for this season. The old boots had disintegrated so I replaced them and re greased everything.
My next big project was refinishing the wheels I picked up in October. I wanted to go wider with my wheel set up so when a set of Impul r5's went up for sale I snatch them. Next up I stripped and sanded all the paint off the faces, repainted the faces and polished the lips up. Here is the finished product ( I lost track of how many hours I have put into these wheels but the end result was pretty good)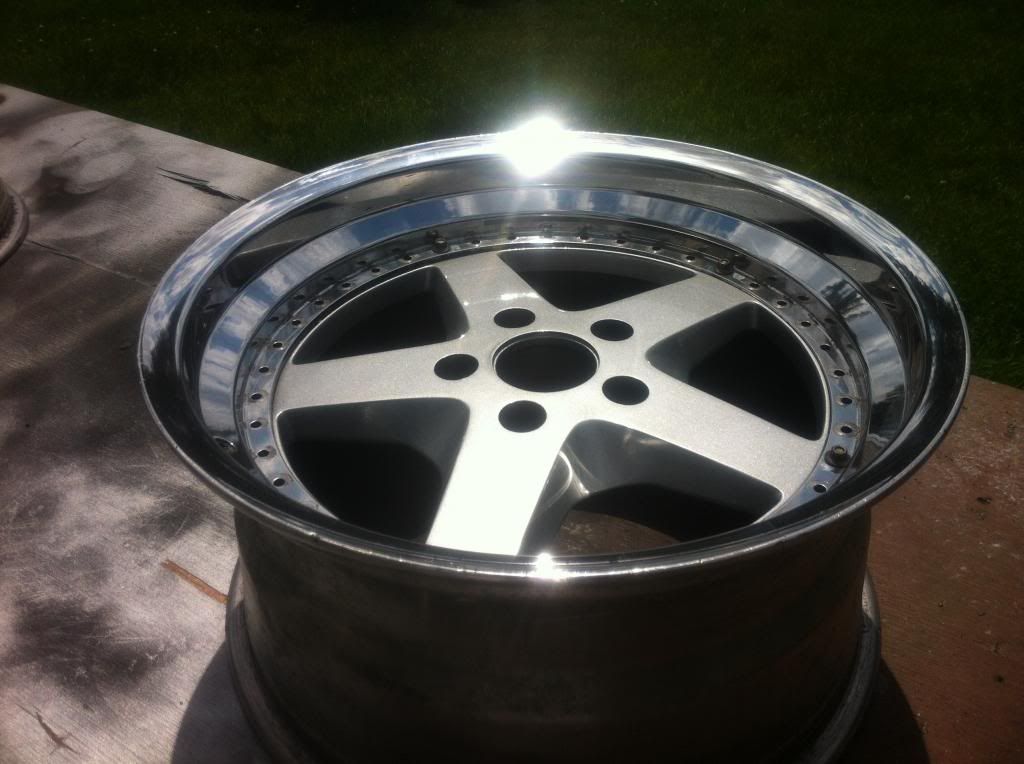 I also replaced my replica seat with a Cobra Imola pro, my other seat felt good but I was worried about what would happen if I actually crashed. The difference in quality was expected but I am super happy I upgraded.
Here is my car as it sits right now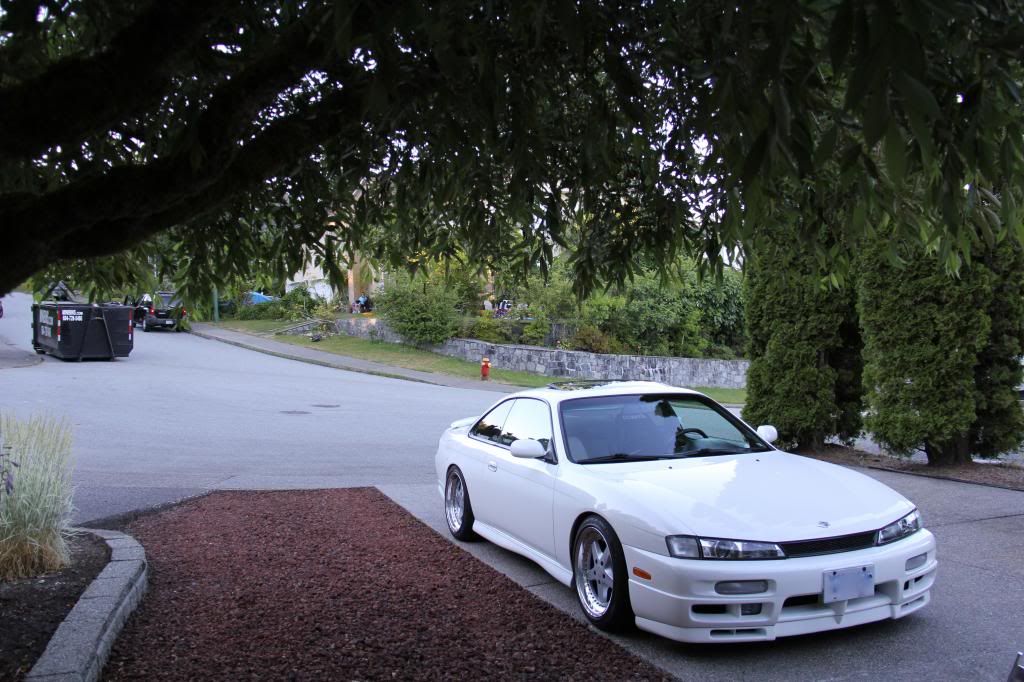 I am still working on rehab for my neck/back but I can drive again. My Physiotherapist told me August I am able to go to autox again so I am excited for that. It is pretty cool to look back at the work and see how much I have been able to learn the last few years. The only thing I have had some one else do after all these years was the alignment and having tires mounted/balanced.
My to do list now is
-install carbon cooling panel
-paint/install trunk and k's wing
-install z32 rear brakes
-get an alignment
Thanks for reading!
1998 Nissan 240sx- STX